TL;DR - for me, they are the best ones I have seen and tried so far.
As primarily a landscape photographer, filters are something that make the art process so much easier. Thus, it is not surprising that I quickly picked up one of the 100mm filter holders with drop in 100mm and 100x150mm filters. However, shortly after using the filter set I found myself leaving it home far too often and it NEVER traveled with me (we're talking Nepal, Bangladesh, Singapore, Italy, Iceland, countless US cities, etc). Why? Because it was just too bulky and took up too much space. On top of that, I absolutely HATED the way the system had to be used. It actually lessened my photographic experience.
As I looked towards other options, I found magnetic 100mm filters which solved the latter part of the issue above but they were still bulky. Fast forward a few months and I notice this new system from KASE at a very attractive price point. Figured why not give it a shot. If the filters and glass work well then I get the sleek design of circular filters, the extremely small form factor, and the ease of use of a magnetic system.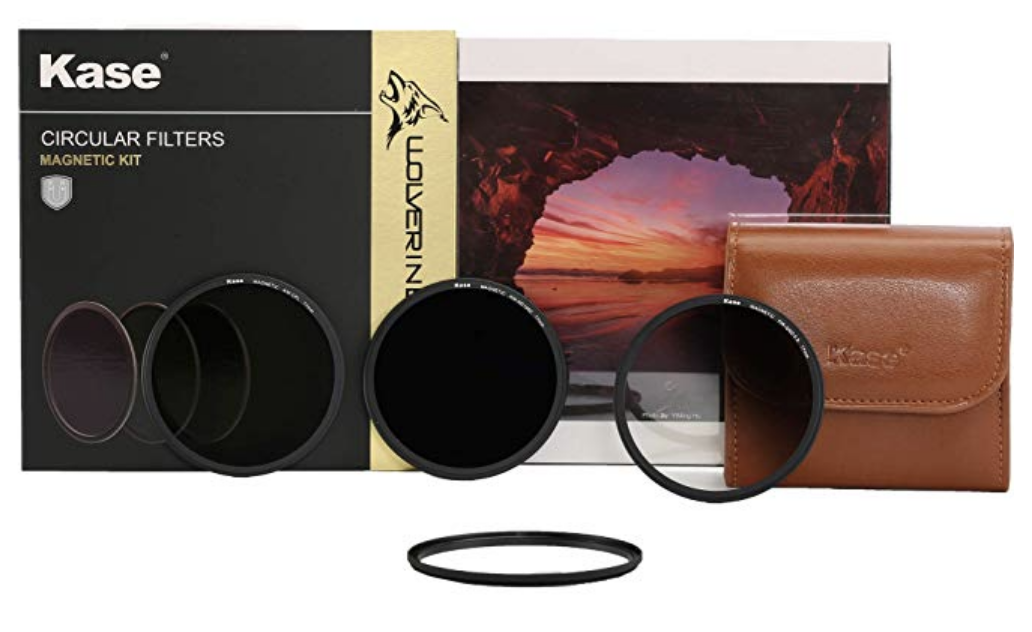 Photo from Amazon Listing: https://www.amazon.com/gp/product/B07S3JYKXX/ref=ppx_yo_dt_b_asin_title_o03_s00?ie=UTF8&psc=1
After I received them, I was initially quite impressed by the box, case, leather pouch, and the overall quality of the filters. I was especially liking how strong the magnets were on the filters because I did fear that they would, sometimes, simply fall off. Anyway, initial drooling aside, I packed them into my bag (the entire kit of adapter, CPL, 10-stop, and a CIRCULAR GRAD (we'll discuss this later) fit into my back pocket if I wanted) and started a little trip that took me to Chicago.
Not only was I willing to take these on my travels, I was actually VERY thankful to have done so! I am absolutely blown away by the quality. I think the sleek and easy use design of this filters is absolutely fantastic and novel but I did not expect the quality of the glass to be as solid as it was. Not going to lie - I was skeptical at first given the price and the "too good to be true" factor. The ND filter left almost no cast which was surprising and the CPL and grad work great as well. But lets not forget, because its a magnetic system, they are able to have circular grad filters - that was one of the main reasons to buy one of the 100mm filter holders and systems in the first place! Finally, the ability to swap on and off filters, stack filters with ease, etc is just too enjoyable. 
Of course, ANY review is not complete without the gripes. Firstly, the CPL and Grad, although fine to use, are a bit awkward because you are turning the ring along the magnetic groove so its a little clunky at times but not unbearable. The 10-stop ND filter is great but I would have liked to see a 3-stop and a 6-stop instead. Often a 10-stop is too much and when you do need that much ND, you can just stack the other two to get there. 
Summary:
Pros:
* Extremely light weight
* Not bulky
* Enjoyable to use
* Super reasonable price
* Comes with nice carrying pouch
* VERY quick to set up and stack/swap filters
* 86mm Filters helps reduce vignetting on 82mm lenses (magnetic adapter is 82mm to 86mm)
* Minimal ND color cast
* HAS A GRAD FILTER OPTION!!
Cons:
* CPL and Grad filter turn on magnetic groove - a bit clunky
* No ND filter other than the 10-stop (sometimes too much)
* No customization to the kits (not everyone needs CPL for example)

Conclusion:
This filter setup is NOT perfect - but then again no system is. For me, however, it is close to perfect since its a system I will actually take with me and utilize regularly. After all, the best filter set is the one that you actually use. Although some will definitely say there are better filters out there - the price point of these with the bang for buck factor is unbelievable. I am sure there will be new ND filters and possibly customizable package kits in the future as well!
Images:

1) BTS of the Foggy Tree Shot
2) Foggy Tree Shot (w/ just ND)
3) BTS of the Bean
4) Bean w/o Tourists (thanks to the ND and CPL)
5) BTS of Chicago skyline sunset
6) Chicago Skyline! (w/ ND and Grad)